Congratulations!
about us
Etno Hostel in Lviv, new and spacious! Within walking distance from the main train station (650m). Nearby: the outstanding architectural monument is the Church of Saints Olga and Elizabeth; Silpo supermarket around the clock; banks, pizzeria, catering establishments.
City center 2.1 km (10 min by tram)
The Latin Cathedral and Lviv State Academic Opera and Ballet Theater are 2.6 km and 2.7 km, respectively.
Lviv International Airport is 5 km from Etno Hostel.
Our location is one of the best in Lviv!
At guests' service: 24-hour check-in desk with simplified guest accommodation system; comfortable rooms for 2, 3, 4, 6, 8, 10 guests, individual key lockers, reading lights and sockets near each berth. Double rooms of two types – economy and comfort. Economy room, has all the amenities on the floor, comfort – directly in the room. There is a multifunctional kitchen with everything you need. Daily cleaning makes you feel at home, clean and tidy.
Free Wi-Fi is available throughout the hostel.
It doesn't matter if you are planning a business trip or a holiday; Whether you are looking for a hostel a day or a month, staying with us will make you feel at home.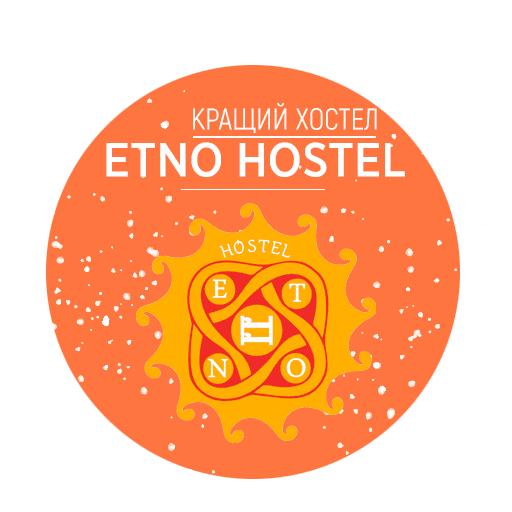 And get a discount in size

5%
Price per night from 900 UAHApartement "Hospitable Lviv"

-

Cozy room. A good option for a family or company. The room has: a  double bed + three beds (separate room) Comment: Advance booking is available Room equipment free Wi-fi The staff speaks Ukrainian, English, Polish 24-hour front desk Extra beds are not available Rooms are cleaned daily Pets are not allowed Smoking in designated areas Additional services for a…

Price per night from 189 UAHRoom for 6 Guests (Female) (2nd Floor)

-

Cozy room. Ideal for girls who care about comfort and their own space. Room: two tier beds, mirror, individual key lockers, clothes hangers, blinds on the bed, sockets and lights. Comment: One or more beds can be booked Room equipment Wi-fi is available in rooms and common areas for free The staff speaks Ukrainian, English, Polish 24-hour front desk Extra…

Price per night from 198 UAHRoom for 8 Guests (General) (2nd Floor)

-

Comfortable room with orthopedic mattresses. Suitable for both individual travelers and couples or friends. In room: two tier beds, lockers, mirror, air conditioning. Bottom beds with shutters and individual lighting. Near each outlet berth. Comment: One or more beds can be booked Room equipment Wi-fi is available in rooms and common areas for free The staff speaks Ukrainian, English, Polish…